Meet artist Lloyd Wade Sat from 2-4 pm at BHG. FREE. He was featured in today's American Press. Check it out and SHARE this post with 5 friends. Stay safe!
The Black Heritage Gallery will host our next artist Exhibit The Art of Lloyd G. Wade Melanin, In the Canvas. August 14,2021@ 2:00 for a meet and greet, and will return on September 14, 2021, @ 2:00 pm to do the Gallery Talk "Melanin In the Canvas." Both events are free and open to the public. Mask Mandate is in place.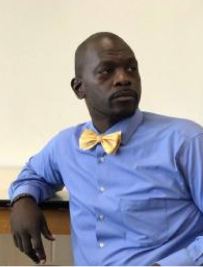 Lloyd Gregory Wade was born in Monroe, Louisiana, in 1975, the second of four children to Lloyd and Josephine B. Wade. In the mid-80s, Lloyd's fifth-grade teacher (Ms. Dimmer) found his notebook full of cartoon drawings. Concerned and impressed, she enrolled him into the Louisiana Gifted and Talented Arts Program. This program would instill an otherwise shy child with the tools needed to be called an artist. Lloyd has a Bachelor of Arts degree from Southern University A&M College in Baton Rouge, LA. And a Bachelor of Fine Arts degree from the School of Art Institute of Chicago in Chicago, Illinois. His most influential tutelage was received from artists such as Daryl Triplett, Robert Cox, Addie Dawson- Euba and
the late Afro-C.O.B.R.A. artist Dr. Murray DePillars and late former Texas Southern University Dean of Fine Arts, Dr. John T. Biggers.
Cultural symbols. Repetitive patterns. Bursts of color. That's what viewers see when they take in the artwork of Lloyd G. Wade

Lake Charles American Press
Lloyd describes himself as an artist storyteller interested in showing the value of people of color and their place in history. He strives to express the importance of self-love and the respect of black men and women. He loves to visually satisfy the viewer with a kaleidoscope of colors, various cultural symbols, patterns, and artistic aesthetics. Lloyd's artwork spans several different mediums, styles and varies in size. Lloyd has also been an art educator for fifteen years and currently holds the position of Art Department Chair at Thurgood Marshall High School in Missouri City, Texas.
As an educator, he is given the opportunity every day to share his gift and artistic experiences with his students and staff. He expresses to his students that art is not a craft but a discipline and self-expression in life. A constant exhibitor, Lloyd has traveled with his work near and far. No space has been too small or too large for his work to come to life. He has exhibited in galleries and venues from Chicago to Houston. An Educator by trade, but an Artist for life and a visual creator for change.