Past Exhibitions
Kenneth Scott: Take You Home
June 7- July 25, 2019
Kenneth Scott Jr., a neo-pop artist, was born and raised in the Ninth ward of New Orleans, Louisiana. At a young age, Scott's talents as a visual artist were discovered. He learned that he could leverage his talents as an artist to move beyond the constraints if his neighborhood. Mr. Scott is a product of the talented in visual arts program of the New Orleans public school system.
As a freshman at Mc Donogh #35 Senior High, Scott became an apprentice of local visual artist Richard Thomas. Thomas, TAV instructor, gallery owner and mentor, introduced him to Pieces of Power, an inner city youth art assemblage established in 1991. After becoming a member of P.O.P. Scott began to participate in art shows and various mural developmental teams in and around the city of New Orleans. P.O.P. also encouraged members' development of entrepreneurial and interpersonal development skills. The organizations strong views on higher education and spiritual growth made the choice of attending college an easy one for Scott.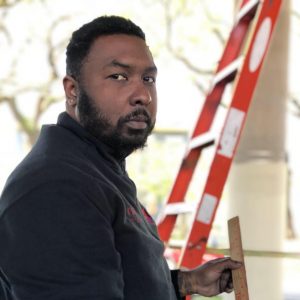 In the fall 1998 Scott began his collegiate career at Louisiana State University's College of Art and Design. After receiving his Bachelor of Fine Arts in painting and drawing in 2002, he made the career choice of becoming a full-time artist. Participating and placing in juried shows on a professional level has brought much success to Scott. He has been featured in numerous galleries, museums, and publications. Scott has also received many accolades from his artistic endeavors. Most recently, he has received a 2013 NOLA FOR LIFE Champion Award. Scott was featured as the official artist of the 2012 Old Algiers RiverFest Poster and 2011 New Orleans Jazz and Heritage Festival Congo Square Poster. Currently, Scott's work can be viewed at his virtual gallery, www.halofineart.com.